Our mechanics are every day on the road to keep your installation in a perfect condition and keep it running. Besides regular maintenance our technicians resolve faults quickly and effectively as well.
To guarantee check-ups and regular maintenance of your system at a fixed price and a regular basis we can offer you a repair and maintenance contract.
---
 Qualified mechanics

Modern engines demand proper knowledge and skills of a mechanic. That's why our mechanics are regularly trained by the different suppliers. This makes them fully qualified to carry out the work. Off course our mechanics have well equipped busses, specific tools and modern measure and adjustment tools at their disposal.
---
Parts

Besides good knowledge of the mechanic, the use of high qualitity parts is essential. To ensure a proper fit, function and life cycle we only use original OEM parts.
---
Maintenance and check ups
Maintenance  and check ups on a regular basis can prevent malfunction and extent the lifetime of an en engine, pump or aggregate.
With an endoscope we can even check the inside of an engine without disassembling it. This makes it possible to examine the condition of pistons, cilinders and valves. Not to disassemble the engine results in lower costs.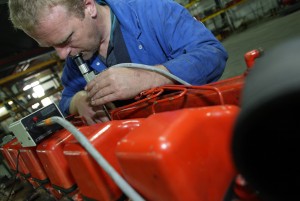 ---
Malfunction

Does your engine or CHP plant have a malfunction, despite regular maintenance? Then you van count on the quick and professional help of our service team. They are 24/7 available for reporting failures. If possible we first try to help you by phone. If that's not possible we will sent a mechanic to solve the problem on site.
To report a malfunction you can reach us 24/7 at our regular phone number:
+31 (0) 575 441150
---
Repair and maintenance contract
Pasman Motoren & Aggregaten offers attractive Repair and Maintenance Contracts. By using a repair and maintenance contract, your installation stays in perfect condition. You pay a fixed fee per month, wich covers the costs of pre defined actitivities for a set period.The fee of your contract of course depends on the make and model, the amount of running hours and duration of the contract. You can decide yourself which activities will be covered. This varies from temporarely check ups and prefentive maintenance to complete service including the replacement of parts.
---